This is hard. Really, really hard. We cannot physically be with everyone we love the most but we can make sure they still feel seen and loved. We are all struggling in different ways during this pandemic. I am particularly sensitive to the emotional impacts of isolation.
There have been multiple times in my life where I was isolated for months on end while I recovered from complications from my autoimmune condition. I couldn't be with my friends and most of my family but every card, note, flower, gift meant the world. I felt seen and I will never forget it. I want to be able to share that hope with you.
For the foreseeable future, I am offering a collection of prints with FREE shipping that includes a lovely gold foiled greeting card with confetti and a note from YOU.  You can choose from a 5×7 print matted to an 8×10 white mat or an 8×10 print. Please leave the note in Order Comments toward the end of the checkout process. Frames are NOT included. All prints are printed and shipped directly from my home studio where I have been quarantined since early March. I have scheduled USPS pickups. Any questions? Please fill out a form here.
Cuffy's Coffee on the Bay
00190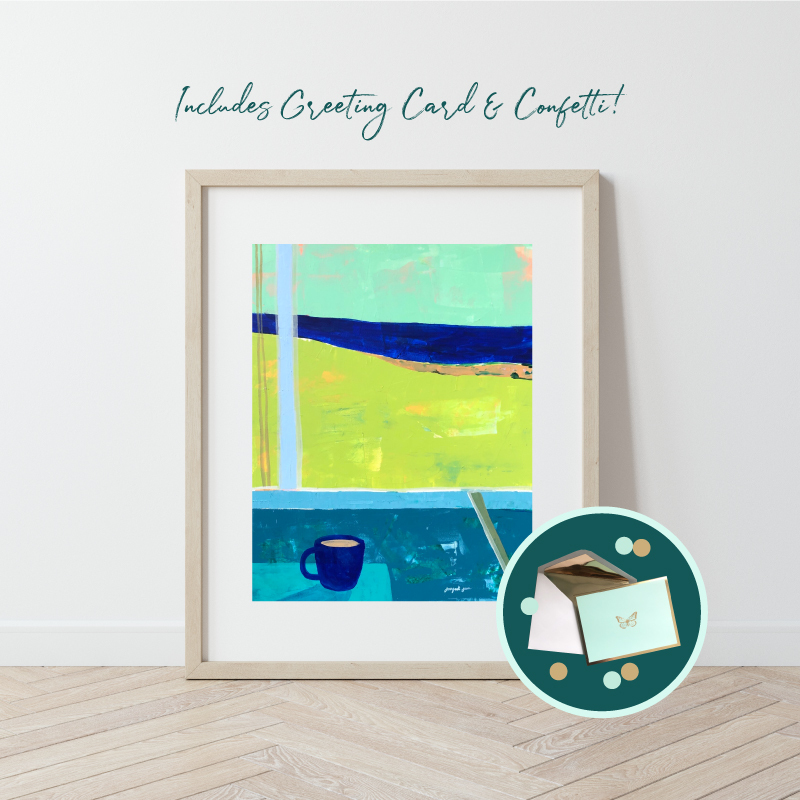 Each print comes with a greeting card and confetti! At checkout, you can include a special note to brighten someone's day. Isolation is hard. We need each other. There have been several times in my life where I was homebound due to prolonged periods of illness and recovery from major surgeries. A note in the mail or a little gift of encouragement truly meant the world and made a huge difference in my recovery. I hope I can pass on that goodness by including a note from you in a lovely gold foiled greeting card.
This is a copy of an original work from my Window Series printed on white, archival fine-art paper. To see an update on what new work is entering the shop; you can check out my Instagram!
All prints ship out of my studio in West Springfield, Massachusetts. Printing and shipping happens directly from my home studio.
Each print is professionally printed on white archival fine-art paper, made using 100% cotton rag content, and is guaranteed to last a lifetime. Prints come in standard sizes. Matting & Framing options are available.
SHIPPING:
This print is carefully packaged in a rigid STAY-FLAT mailer, box, or rigid TUBE, depending on the type and size of your order. All U.S. orders include free tracking and delivery confirmation. Print will be shipped within 1-2 business days.

SOCIAL MEDIA:
Find out what's going on in the studio and on the road. I post my latest creative projects and travels to my social media channels.
Follow us on Instagram | Like us on Facebook | Check us out on Pinterest