The Oster Ocean Front (24 x 24)
00115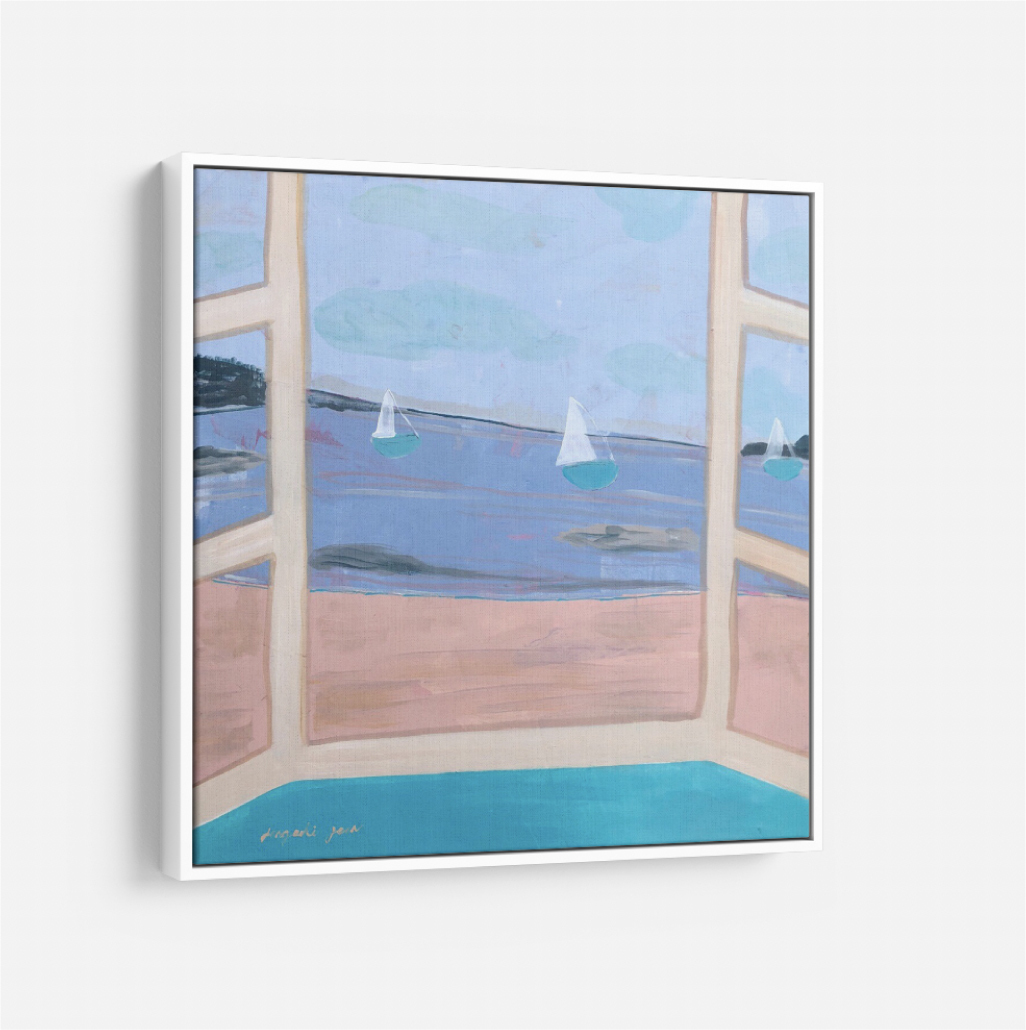 The last time I visited the Oster Cottage before it was sold, I took a long walk in front on the beach. Some of my favorite childhood memories were made here and forever intertwined with my bff's family. We would paddle out to this tiny "island" at low tide in front of her family's beach cottage as kids. We would play make-believe and often lost track of time until we realized there was no more island and we were wading in water! By then, one of her sisters would be hollering for us to come back to the shore.

This original work is a mixed-media (Acrylic based) painting on a 2 inch deep canvas from the Window Series. Layers of homemade ephemera and collage papers along with thick paint make for a beautifully layered and textural piece. The painting is even prettier and more nuanced in person. Colors may vary slightly from your screen. For additional photos or questions, please send us a message. The sides of the painting are painted and comes ready to hang. Frame NOT included. Follow me on INSTAGRAM for the latest news and promotions.

All paintings ship out of my studio in Massachusetts.
The Story Behind the Window Series
The Window Series is an extremely personal, albeit vulnerable series. The long story short it that since my early 20s, I have battled some serious surgeries and complications from an auto-immune condition. For the last two years, I have been trying to heal from what I thought would be my last surgery. Almost 2 years later, I am still not healed and have not sat down since Thanksgiving 2017. Yes, you read that right. The surgery left me unable to sit down. At all. Channeling my inner Frida Kahlo who endured her own physical battles painting from bed, I have found joy painting through the pain.
The Window Series was born quite naturally as that has been my main vantage point. All of the pieces are abstract and impressionistic in nature and of some of my favorite places: Cape Cod Marshes, New England Beaches, and the view from my childhood BFF's family cottage off of Long Island, Maine. I hope these bring you hope on the horizon. I praise God that I can indeed paint through the pain.